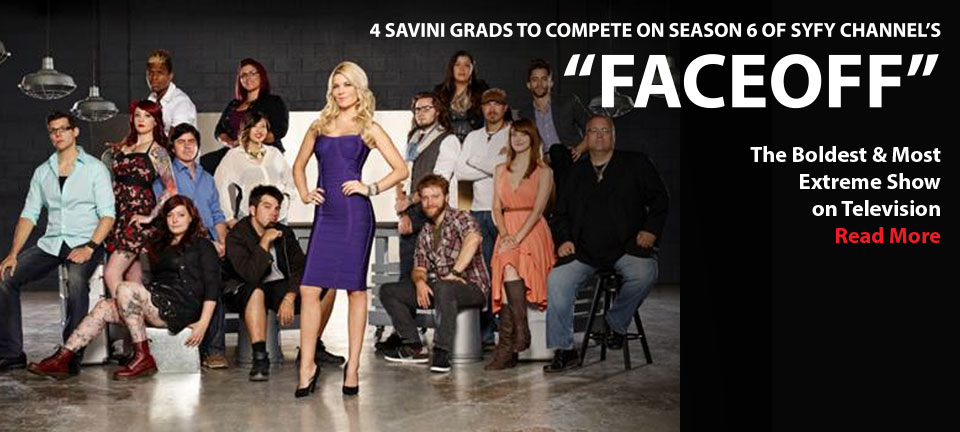 Savini Link Continues on SyFy Channel's "Face Off"
From TLC's Cake Boss (Ralph Attanasia) to the Food Network's Sugar Dome  (Melissa Coulter), there's no denying that DEC graduates take command of the screen – enthusiastically. If the names Michael Westmore and Greg Nicotero mean anything to you, odds are you're either a Trekkie, a Walking Dead fan, or a special make-up effects fan. If you're the latter, you should probably check out Tom Savini's Special Make-Up Effects Program, as well as SyFy's hit reality TV series, Face Off.
If you have a passion for the special make-up effects industry it's hard NOT to get into the show. Face Off features up-and-coming special effects artists looking to break into Hollywood. They come from all walks of life, from recently graduated students to self taught prodigies. Each week the artists must impress various visual effects artists from the industry such as Ve Neil, Glenn Hetrick, and Patrick Tatopoulos, who combined have worked on Beetlejuice, Mrs. Doubtfire, and The Hunger Games to name a few.
DEC alumnus and Face Off Season 3 competitor Alana Schiro Rose said, "This experience was so incredible, and I'm not just saying that. The people involved — the cast, the crew, the production — the work these people produced was amazing and I'm so happy I had the opportunity to be a part of it."
Over the soon-to-be six seasons of Face Off history, DEC will have had 14 graduates compete on the show. The sixth season, which premieres on January 14 at 9:00 PM, will unveil four DEC graduates as brand new competitors, including Daran Holt, Tyler Green, Tess Laeh, and Tanner White.
Other DEC alumni who have been part of the show, include:
SEASON 1
Tate Steinseik
Meg Areford
Jo Holland
Jess Kramer
SEASON 2
Ian Cromer
Susan Lee
SEASON 3
Alana Schiro Rose
Jason Milani
SEASON 4
Eric Zapata
SEASON 5
Alana Schiro Rose
Eric Zapata
Samantha Allen
Bryan 'Tate' Steinseik