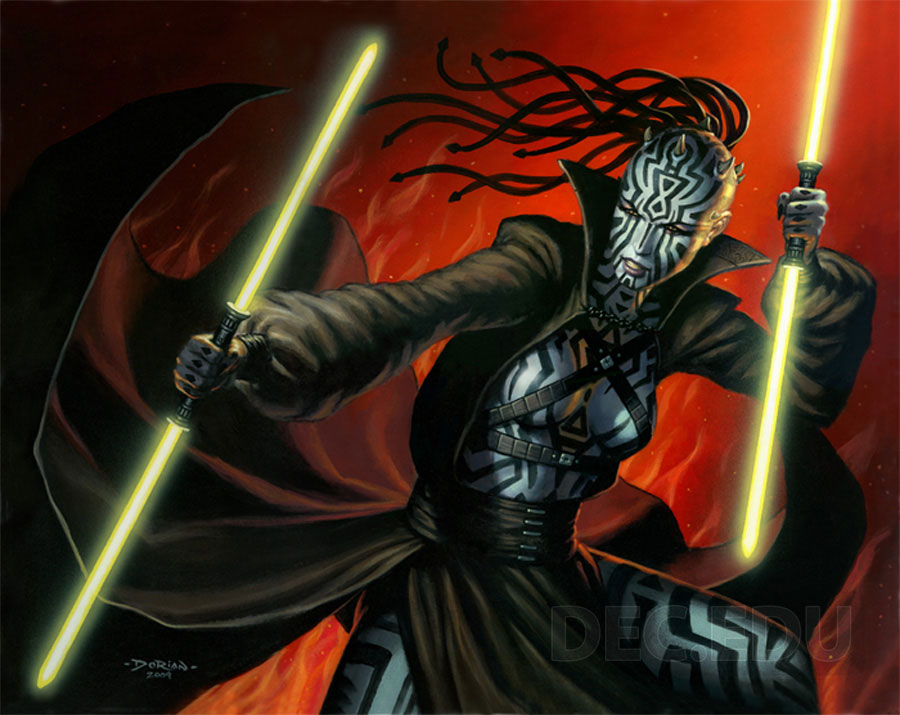 Cleavenger Hand-Picked by "Star Wars" Legend, George Lucas
George Lucas invited more than 100 of the best working artists, illustrators, designers, and cartoonists from around the world to celebrate their favorite characters, themes, worlds and moments from the epic saga Star Wars. DEC instructor and world-renowned artist, Dorian Cleavenger, was among those hand-picked by Lucas himself to illuminate this remarkable collection of work entitled, Star Wars Art: Visions.
Two of Cleavenger's paintings were chosen to be included in the book. "It is truly a humbling experience," said Cleavenger. "To be included amongst an enormously talented group of artists such as this is incredible."
The first of his paintings, entitled Darth Simi, is a depiction of a female Zabrak Sith character. Taking his inspiration from Darth Maul, the main antagonist of Star Wars Episode 1: The Phantom Menace, Cleavenger illustrated Darth Simi as an ancient Zabrak Sith priestess who kept herself alive for thousands of years by sacrificing young Jedi to the dark side of the Force. She wielded a pair of yellow double-bladed lightsabers.
The second painting by Cleavenger is entitled, Padmé. An idealist during a time of corruption and war, Padmé Amidala was a strong woman determined to fix what wrongs she could in an ailing Republic. "I chose to paint Padmé in her natural form; as a leader – both powerful and benevolent."
Although a graduate of The Art Institute of Pittsburgh, Cleavenger is largely self-taught. Initially after completing school, Cleavenger did artwork as a freelance designer for corporations such as Disney, U.S. Steel, Carnegie Science Center and many others. Though earning a good living, he felt inhibited by the requirements of commercial art through concepts and dictates of the business world. Having a desire to do his own interpretive work, he struck out on his own. This decision alone has catapulted Cleavenger's career to new heights.