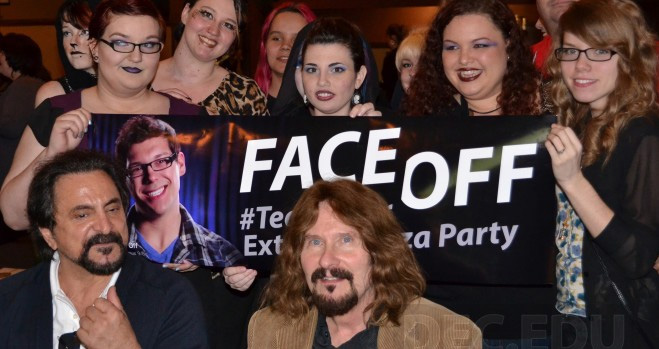 DEC Graduate Finishes in Second Place on SyFy's 'Face Off'
From DEC graduate to reality star, Tyler Green unleashed his passion and creativity in special make-up effects, finishing second in the SyFy channel's breakout reality competition series, Face Off. Face Off showcases some of the best special make-up effects talent in the country. Competitors prove they've got the skills to create exciting and fantastical characters.
A 2006 graduate of Tom Savini's Special Make-Up Effects Program and the Esthetics Program at Douglas Education Center, in Monessen, PA, Tyler placed second out of 15 contestants from around the country. He has won the approval of some of the nation's most renowned in the special make-up effects industry, and we couldn't be more proud of him!
Tyler celebrated making it to the Season 6 finale by Skyping with us during the finale. The Face Off #Team Tyler Extravaganza Party drew a large crowd of supporters including students, faculty, staff, graduates and community friends to see the final results and to chat with Tyler. Tom Savini, the Sultan of Splatter, and Jerry Gergely, a widely-popular special make-up effects instructor at DEC, facilitated the Skype call, much to the excitement of the supporters.
Questions poured in from DEC's Twitter and Facebook pages for Tyler, including one humorous proposal from a fan as well as supporters wanting to know what helped Tyler the most on the show from his time at DEC. "So, Tyler… what was one thing you learned at DEC that helped you on the show," asked Tom Savini. Tyler spoke fondly of the DEC instructors. "I have to say the instructors. They were amazing! Any question I had I knew I could always seek them out."
In response, Jerry Gergely added, "Tyler was a talented student and successfully completed any project on time with full execution. He has always had great passion."
Special guest, Bryan "Tate" Steinsiek, also Skyped in to show his support for #TeamTyler. Having also attended Tom Savini's Special Make-Up Effects Program at DEC, Tate is best known for his appearances in seasons one and five of Face Off. He has worked on special make-up effects for several films and television series, including Law & Order, Clash of the Gods, and The Amazing Spider-Man. "Learning to make molds at DEC changed my life," said Tate with a smile.
Tyler currently spearheads Creative Genius LLC, a limited liability company. He is currently preparing to release a unique product called Wonderband Systems. The Wonderband is an apparatus that straps on like a watch or armband and can hold all types of handheld implement, be they make-up brushes, tools, pencils or pens. As of now, there is no release date for Wonderband Systems.
Full episodes of FaceOff are online at syfy.com/faceoff.
Tyler may be followed on Twitter @WonderbandMan.