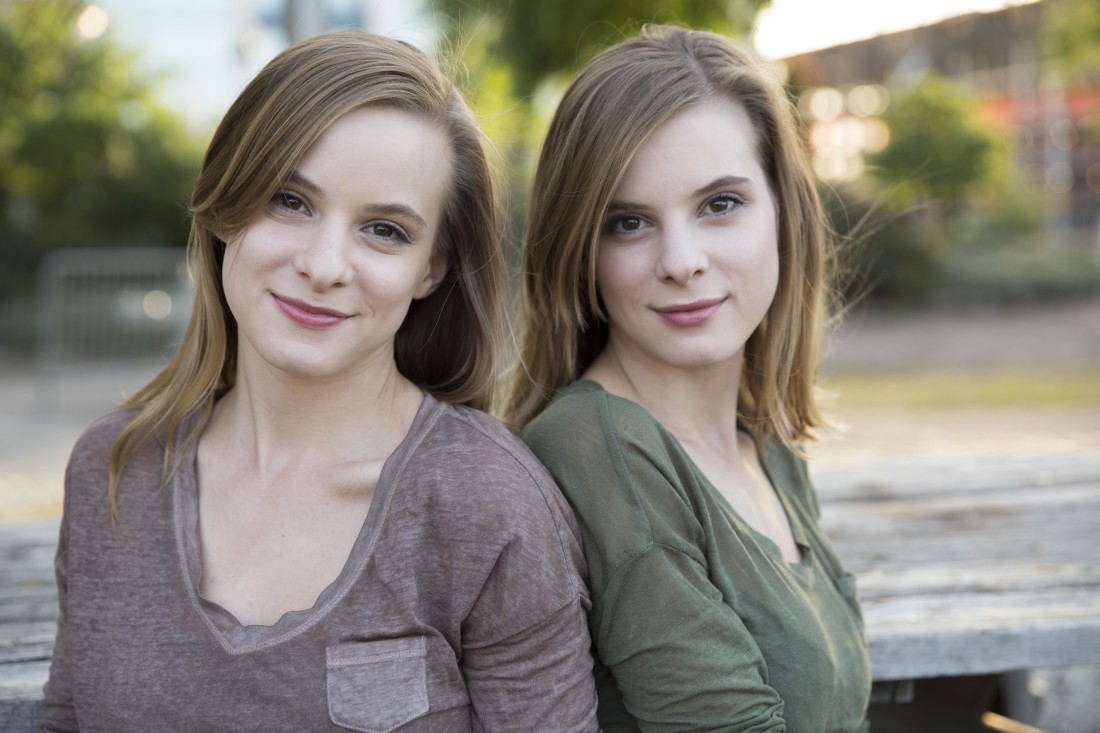 DEC Factory Graduates find Success in Acting
As children, we have many hopes and dreams of what we want to do when we get older – being a doctor, a police officer, a chef. Those hopes and dreams can change numerous times, until we have to really think about what it is we want to do with our lives. However, there are a select few who just know at a young age what it is they want to do as adults, and they strive for that while growing up. The Factory Digital Filmmaking Program graduates Rebecca and Miranda Gruss are perfect examples of this.
"At eleven years of age my sister and I got our first audition and then we were hooked. We couldn't see ourselves doing anything else with our lives," said Rebecca. Twin sisters Rebecca and Miranda were raised in a small town in Pennsylvania. Their grandmother was an artist and taught them to paint at a young age, which planted the seed of creativity. Both girls would take an intensive acting class every summer, usually in New York. Their parents were very supportive of their desires to pursue the arts. "My mom would tell us that we could do anything," said Miranda.

After graduating high school, Rebecca and Miranda knew they wanted to pursue a career in film. "I had made myself so sick thinking about the future and how I was going to pay for school, and if film school was the right thing to do, and when I walked in the doors it just felt like the right step. It was the calmest I had been in months. I knew it was the right decision," said Miranda. They both chose to attend The Factory Digital Filmmaking Program at Douglas Education Center. "The Factory offered a more rigorous and hands-on approach than other schools. We weren't interested in theory; we were interested in working and that's what the program teaches you," said Rebecca. Making a decision on which school to go to can be hard and where to spend the next few years of your life is a big decision.
Once Miranda and Rebecca graduated from The Factory Digital Filmmaking Program, things changed. "I became very interested in post-production while at school. When I graduated, I almost stopped acting completely for close to 2 years and focused on editing," Miranda said. However, Rebecca still wanted to act, "I did a lot of small crew jobs, got part-time jobs, got really scared and realized that even though I was working in film I wasn't doing what I wanted. What I wanted was to act," said Rebecca. Miranda and Rebecca persevered and continued to work, making connections and working their ways up their career ladders, sometimes balancing numerous part-time jobs. In both instances, Rebecca and Miranda used their training and experience at The Factory Digital Filmmaking to advance both their production and acting careers and their investment paid off.

Call it luck or fate, but one day as Miranda was going through her casting emails she noticed that the Cinemax show The Knick was casting for twins. "I knew how amazing the show was, so I texted my sister and said I would submit us for this casting and not long after that we got called to send in a tape" said Miranda. Shortly after, they had a call back in New York and they were offered the role. The Gruss twins also just wrapped up an episode of Madam Secretary. They also have combined their acting and production skills on a web series project, Crest Haven Falls.

Miranda and Rebecca pose with Tom Savini's Special Make Up Effects Program graduate Kevin Kirkpatrick who was a key make-up artist on The Knick.
The training and experiences they learned at Douglas Education Center continue with them on set today. "This is an industry built on passion. If you don't love it, it can get a little rough," said Rebecca. The Douglas Education Center Instructors are always pushing their students to achieve more, to do better, and are always there for them. "I will always have the highest respect for (Director of The Factory Digital Filmmaking Program) Robert Tinnell. I still call him when I need advice or when I feel like I am in over my head," said Miranda.