Meet Tarelle Irwin – Douglas Education Graduate
Douglas Education Center Student Matters
Tarelle Irwin
Douglas Education Center – Commercial Driver's License Program Graduate
''I just am really thankful for the opportunity that I was given to come to Douglas and go through the Commercial Driver's License Program ("CDL") because it was just amazing. I think it would be good for others to come to DEC because the experience that you get here will make you love it and appreciate it."  Those are the words of Tarelle Irwin, a recent graduate of the CDL Program at Douglas Education Center, and currently a driver for PepsiCo.
Tarelle enrolled in the spring 2016 night class because of its proximity.  "I'm actually from Monessen and I just wanted to be a part of the growth of this city." He added, "I had also come in contact with other drivers that had come through DEC and they spoke very highly of the program and DEC in general. I knew that when the opportunity presented itself, I had to try it!"
That opportunity came from Tarelle's former employer who needed a driver and asked Tarelle if he would be interested in going to school in order to fill the company's void.  "A month after they asked me, I started at DEC."  His schooling and motivation to use his skills led him to a job at PepsiCo where he is a commercial driver today.
"Even though I find my job to be challenging, I love it! I find it to be a very rewarding job because at the end of each day I feel as if I have accomplished something. The job also helps me to be a good family man. I drive a daily route that starts in the early morning and goes until it's finished. It allows me to be home every night and since it's only Monday-Friday, I have the weekends off to be with my kids."
When speaking with Tarelle, one gets a real sense of the importance of his faith and family.  He applies his faith to his job by stating, "I truly believe everything is a ministry. Going out and being able to get on routes and provide customer service is just awesome. This job also gives me the opportunity to see people from different walks of life that I can lend a positive ear to and hopefully motivate to do better things." He is most proud of the fact that he gave his life to Christ, which was a journey because he wasn't always a spiritual person; however, it is his faith that motivates him to excel and his children also play a key role in his life and his success.  Tarelle is "a big family man!"
When asked to reflect upon his time at DEC, Tarelle fondly speaks of Professor Peterson. "He's just an awesome guy! He doesn't sugarcoat anything. You could just tell that he really wants his students to succeed. It's not just for the school's reputation, but for the person. He sees what the benefit of having a CDL license is and how it could be beneficial in your life."  Professor Peterson also showed great confidence in Tarelle and was a positive force in his time at DEC.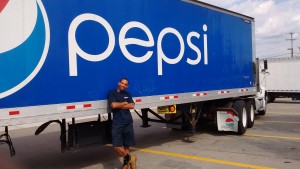 Tarelle's long-term goal is to remain as a driver for PepsiCo. He also would love to work in teaching in some way. "I would love to be a motivational speaker. I want to go into schools and give kids of all ages speeches that will help get them through life in general and show them that they can be a success."  This would suit Tarelle well given the success of his life and his accomplishments as a student at DEC.
Read Nora Hewitt's Story
Read Jason Baker's Story
Read Brittany Fontain's Story
Learn more about The Skilled Trade Programs at DEC