October 3, 2018
In
Allied Health Programs, Allied Health Programs at DEC, Art, Business, DEC News, Design, George A. Romero's Filmmaking Program, Medical Programs at DEC, Skilled Trades Programs, The Cosmetology Academy, The Energy Trade Programs, Tom Savini's Special Make-Up Effects Program
DOUGLAS EDUCATION CENTER RECOGNIZED AS A SCHOOL OF EXCELLENCE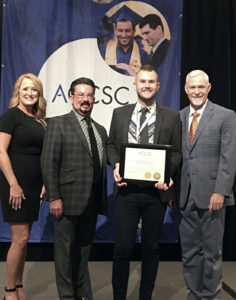 ACCSC (Accrediting Commission of Career Schools and Colleges) has recognized Douglas Education Center (DEC) as a School of Excellence. The ACCSC School of Excellence Award is intended to recognize ACCSC-accredited institutions that have demonstrated a commitment to the expectations and rigors of accreditation, as well as efforts in maintaining high levels of achievement among their students. In order to be eligible for the School of Excellence Award, an institution, minimally, must go through the accreditation process without issue, pay all fees and submit all reports on time and complete, and a majority of the school's graduation and employment rates from all programs offered must meet or exceed the average rates of graduation and employment among all ACCSC-accredited institutions.
"They have chosen DEC as one of 20 schools, out of more than 800, to be a School of Excellence. This is such a wonderful testament to our graduates and the powerful impact their success has made in their own lives, their families' lives, their communities, and our workforce.  We are both excited and honored to receive this award from such a respected accrediting body as ACCSC," said Jeff Imbrescia, CEO and President of DEC.
As a School of Excellence, Douglas Education Center was honored throughout the 2018 ACCSC Professional Development Conference (PDC). The PDC was recently held September 25 – 27, 2018, in Long Beach, California. The theme, "A Community of Partners in Education," highlighted the focus for the conference: promoting student excellence and building partnerships within the higher education community.